What's The Best Adjustable Bed For Aches And Pains?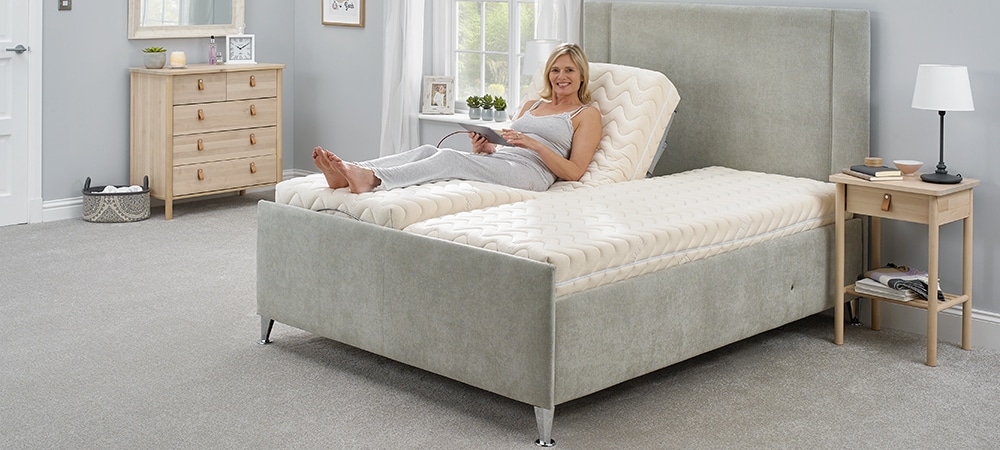 As we get older, we learn to put up with life's little aches and pains. "It's ok…" we think to ourselves. "This is just a normal part of aging." The problem with this attitude is that it often prevents us from taking the correct steps that could help us to improve the problem. This is especially true when it comes to our sleep.
If you sleep on an old mattress or wake up stiff and sore, it may be time for a change. Firstly have you considered an adjustable bed, or even know what one is for that matter? We'll help you decide on the best adjustable bed for aches and pains. Find out what to look for, questions to ask yourself before you buy, plus much more.
Choosing The Best Adjustable Bed For Aches and Pains
Adjustable beds are a valuable investment for people of any age. However, they are particularly beneficial for older people who suffer from conditions such as back pain, sciatica and arthritis.
In the same way that your mobile phone does so much more than just make calls, a modern adjustable bed frame is able to do so much more than move you into different sleeping positions. Here are just a few examples of what the best types of adjustable beds are capable of.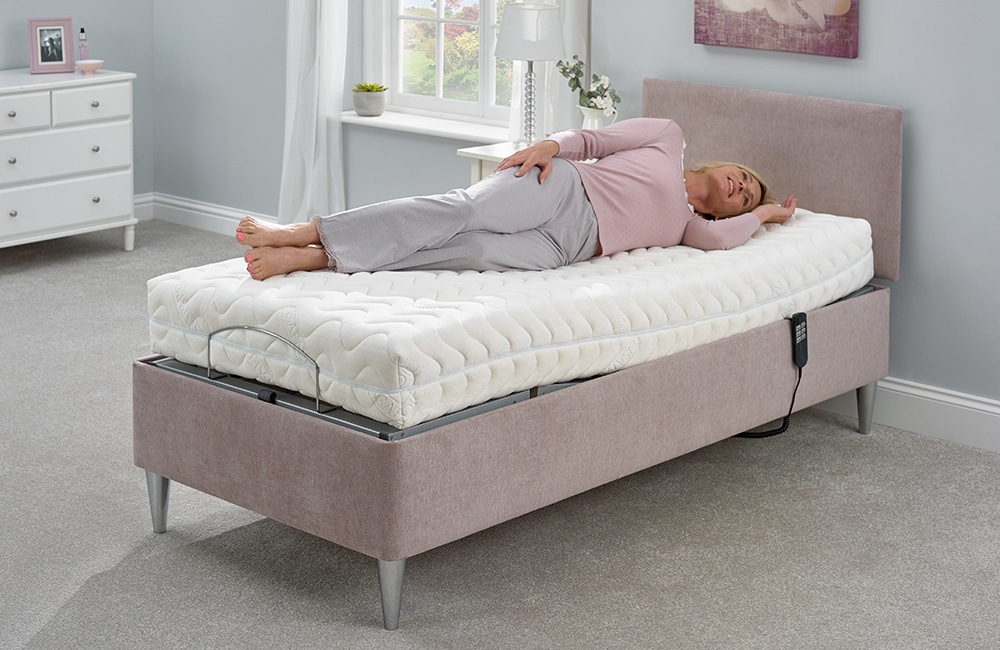 While some beds can actually worsen aches and pains by placing excessive strain on vulnerable areas, adjustable beds are fitted to your exact needs and requirements. Adjustable beds help to find a more comfortable and supported sleeping position to provide temporary positional relief from aches and pains.
Adjustable beds can make it easier for the user to get in and out of bed on their own, taking pressure off stiff muscles and joints.
Under bed lighting to make night time bathroom trips safer and easier.
A massage feature (like The Adjustable Bed Factory's inbuilt massage system with separate head and foot control) soothes away aches and pains.
Adjustable Bed Types
Firstly, when choosing the best adjustable bed for aches and pains, you will need to consider the type of adjustable bed you would like.
There are 3 types of adjustable beds you can choose from when searching for the best adjustable bed:
Single Adjustable Bed
This type of adjustable bed is perfect for those who sleep alone and would like more flexibility with their sleeping positions.
Double Adjustable Bed
This type of adjustable bed is perfect for couples who struggle to get comfortable but would like to retain the intimacy of a double bed.
Dual Adjustable Bed
If you and your partner have very different needs, then you may want to consider a Dual Adjustable Bed. These beds allow independent movement on both sides. They are essentially two separate twin mattresses with their own separate areas.
Key Features To Consider The Best Adjustable Beds for Aches and Pains
Once you have decided on the type of adjustable bed you would like, it is time to consider the features you would like to help aches and pains.
Adjustable Bed Massage
Take advantage of an optional built in massaging system. You will be able to enjoy either a full sensual body massage or a concentrated massage on one of five specific areas of your body using the finger light controls.
The intensity of the massage is also totally controllable and the system automatically switches off after fifteen minutes.
We highly recommend that you experience the effects of our massage system with your adjustable bed for aches and pains. It can provide welcome relief to muscular tension and a reduction in stress, and can be especially beneficial for your health and well being.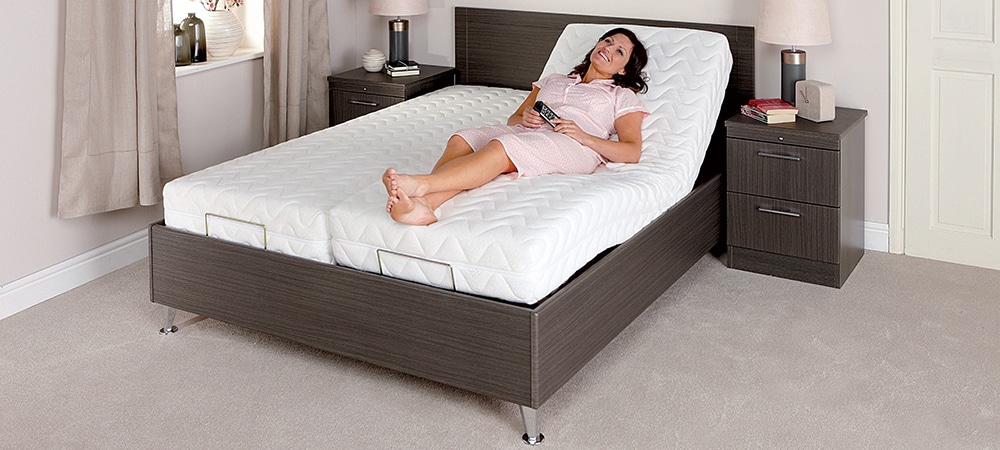 Adjustable Bed Mattress
Those who experience aches and pains should also look at their mattress or, more specifically, the firmness level of the mattress.
All of our adjustable beds come with two mattress options for you to consider, to suit your specific needs, weight and firmness preferences.
Whichever mattress you choose, make sure that make it firm enough. Otherwise, you may inadvertently make your aches and pains worse.
The Sensapaedic® Mattress
No matter your shape or size, the Sensapaedic® memory foam mattress shapes itself to your body, supporting the small of your back, whilst cradling your hips and shoulders to reduce pressure points. A unique system that responds independently and exactly to your weight and body movement helping you to achieve a deeper, more restful sleep. Features a highly effective anti-allergenic treatment which helps to suppress dust mites and prevent the formation of fungus and bacteria.
The Pocket Comfort Mattress
Pocketed spring mattresses are universally recognised as providing excellent levels of support, comfort and orthopaedic benefits.
This 7″ thick pocket sprung mattress combines pockets of fabric and springs which allow you to enjoy a comfortable and supportive night's rest.
Perfect for those people who sleep with a partner, as the individual springs prevent 'roll together' – a common cause of sleep disturbance.
What to Look For When Choosing The Best Adjustable Bed For Aches and Pains
Reputation
A power bed is a complex piece of equipment. Like a car, it has moving parts, electronics and a motor. So be sure you're dealing with a company that's built many adjustable beds and has a reputation for standing behind them.
With so many suppliers out there, it can seem a little daunting to decide between one company and another.
As a general rule of thumb, look for a well-established name with decades of experience, especially if they have good reviews from other happily satisfied customers. The best recommendations come from people who are looking for the same comfort and support that you are.
Decide What Kind of Shopping Experience You Would Like
There are local and national retailers on the high street, but they aren't always the easiest to get to.
As you know, the trend for shopping is increasingly moving away from expensively run shops and towards a more personal experience from reputable online retailers.
With The Adjustable Bed Factory you can enjoy a demonstration from the comfort of your home by a friendly local product specialist.
The Best Adjustable Bed for Aches and Pains Should Have a Long Warranty
A great bed warranty is the sign of a great power base.
In the event of something going wrong with your bed, you want to be sure that the problem will be resolved quickly and easily.
At The Adjustable Bed Factory all our beds come with a three year on-site warranty included in the price as standard.
In the unlikely event that you have any problems with your bed, you can just call our customer care line and speak to one of our experienced technical advisors who will be able to help you with any simple issues over the phone.
If the problem is more serious, they will arrange for one of our in-house engineers to visit your home at a time and date suitable to you and in most cases, they will be able to repair your chair there and then. Occasionally the bed will need to be taken away for repair. But don't worry – should this happen, a suitable loan bed will be offered as a temporary replacement until yours is fixed and returned.
Price
At The Adjustable Bed Factory you buy direct. As we manufacture our own beds, we keep our costs down, so you can enjoy all the benefits of a luxury, hand built adjustable bed at a factory direct price.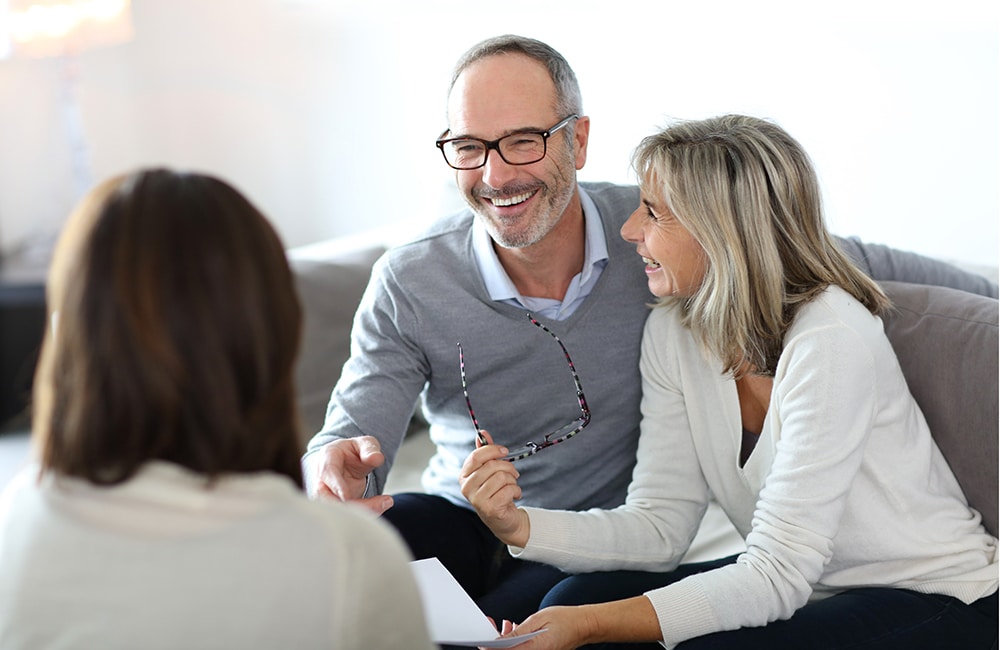 Book a Home Demonstration To Experience The Best Adjustable Bed
At the end of the day, there is no "best" adjustable bed for older adults. Each of our bodies is different. Once you have an idea of the best adjustable bed for you, it's time to try it for yourself to be sure.
During your home demonstration, we'll make a full assessment of your needs and advise on which of our models and size options will best suit you and your home.
Remember, it's free and there is no obligation to buy; if it isn't suitable, we wouldn't want you to have it! If you would like a friend or family member with you that is fine by us – in fact, we encourage it.
At the end we will leave you with a quotation and, after that, the choice is entirely up to you.
So why not take the first steps to reduce your aches and pains today? Book your free no obligation home demonstration today.
Interested in a New Adjustable Bed?
Order a brochure below for more information on our adjustable bed range.
Electric beds are beneficial for improving your sleep. Discover the amazing benefits an electric adjustable bed can bring with this