Quick Guide To The Best Hospital Beds For Home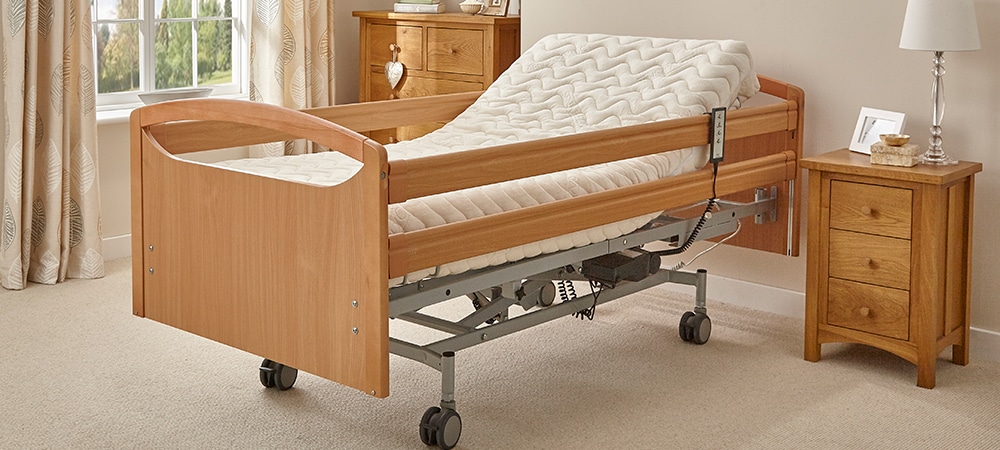 What Is a Hospital Bed For Home?
For those who have recently returned from the hospital or are looking at palliative care in the home, a good investment is a hospital bed. It allows anyone who has spent a period of time in hospital, to be able to return home much quicker than usual and be able to sleep safely.
Simply put, a hospital bed for home is a specially designed bed that includes a variety of useful features to improve the comfort of the individual and the convenience of the carer.
What Features Should I Look For In The Best Hospital Bed?
We have decades of experience when it comes to assisting people in finding the best hospital bed for their needs. We're here to help you find a comfortable and cost-effective solution. It's important for those who are in recovery to be as comfortable as possible and being in your own home has been proven to help speed recovery.
What Key Features Should You Be Looking For?
1. A Comfortable Profiling Base
Firstly, the most important component of a hospital bed is its frame.
It's essential to ensure that you have a profiling frame that can adjust to a comfortable sleeping and resting position. It needs to be sturdy, to be able to withstand plenty of use, particularly if recovery time is long or you are looking at palliative care.
2. Safety Features
Secondly, you should ensure the bed has an anti-entrapment mechanism that will sense an obstruction (such as a carer's hand) and stop the movement of the bed. This is a very important safety feature to avoid any injuries.
Look for additional safety features, such as side rails to help with grip and reduce the chance of a fall from the bed.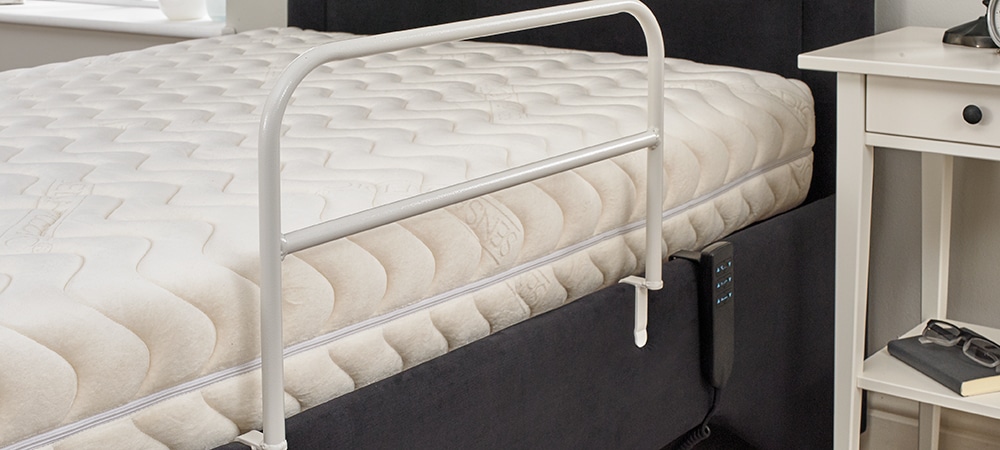 3. Accessibility
As this is a bed specifically for someone in recovery or palliative care, it's extremely important that the bed is easily accessible. The bed needs to be comfortable for the user to get in and out of.
To ensure you choose the right bed, research the adjustable bed mechanisms. There are several types and its important to get your head around these
Hi-Lo Mechanism
This enables the hospital bed to be raised and lowered to help the user get into and out of bed.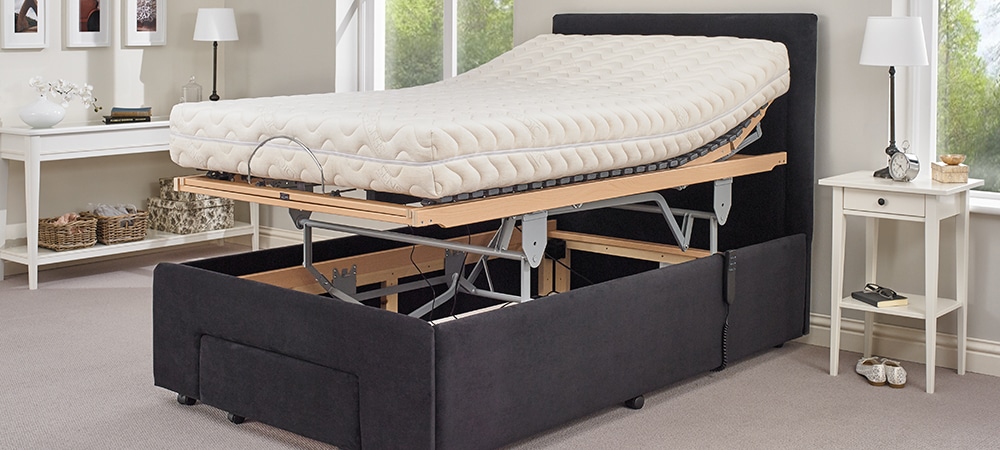 Tilting
A tilting mechanism gives you the option to tilt the angle of the bed to help with certain medical conditions such as swollen joints and high blood pressure.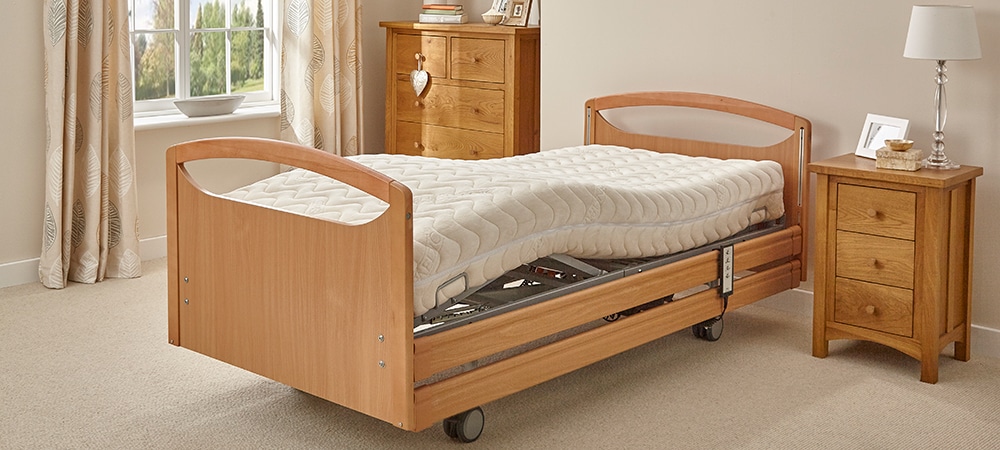 If you feel you don't need these, just make sure you choose a bed that suits the users' needs. A standard adjustable bed could be the answer as this will include the standard five point mechanism.
4. Appearance
Hospital beds tend to look fairly medical and can often make the user feel worse. The great news about hospital beds for home is that they don't have to look like traditional clinical hospital beds. In fact today, hospital beds for home come in a wide variety of styles to suit you and your bedroom.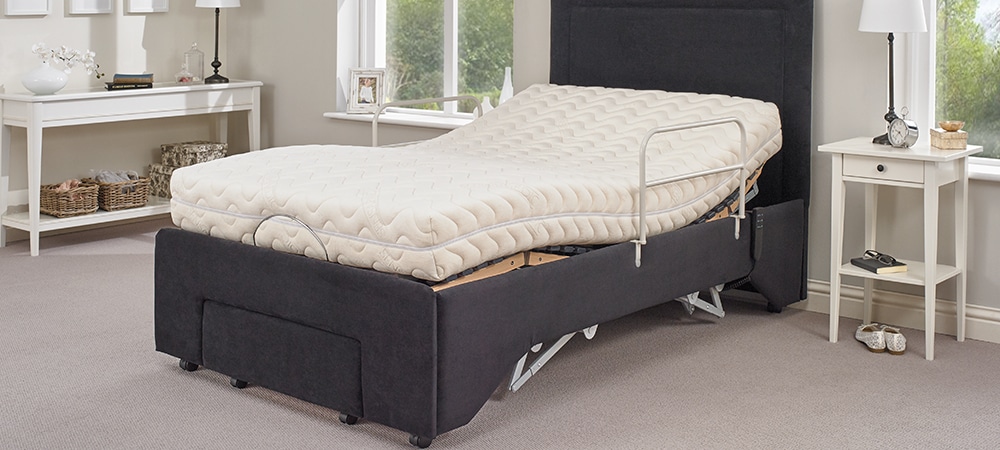 For example, the Adjust4Sleep Home Care Bed, as seen above, has a fully upholstered surround while maintaining the height adjustment and profiling functionality of a hospital bed. Plus, with a choice of upholstery and optional extras, the Home Care can be fully personalised to suit you and your home.
5. Easy to use Controls
Regardless of whether it will be the individual using it, or the carer, you should look for a hospital bed for home that has simple to use controls.
On the handset look for large, well-spaced buttons and clear labelling for the different bed functions.
Top tip- Make sure you have a go at using the buttons during your demonstration to ensure you find it simple to use.
6. Helpful Accessories
Look for a hospital bed for home that can be personalised to your needs and requirements with a variety of optional extras to choose from.
Popular accessories for medical beds include:
Cot sides: These bed rails help to prevent falling out of bed at night.
Reading Lights: Directional lights to help with reading.
Inbuilt drawers: Inbuilt drawers create some useful additional storage space for your bedroom.
Cut out sides: Is there an option to add cut-out sides if you will need to use a hoist to get in and out of bed.
7. Other Considerations
Payment– What is your budget? And have you taken into consideration you will need a new base as well as a specialist mattress? Are you able to pay in instalments? And do you need to put down a deposit? Can you try it before you buy it? Reputable companies should provide a free demonstration where you can experience the bed for yourself.
Check the dimensions– Will the hospital bed fit comfortably in the room, with easy access in and out of the door and around the room?
Installation– Does the company you have chosen to deliver and install the bed, and is there an option to take your old bed away?
Upkeep- How does the medical need to be maintained and is any servicing recommended?
What Are The Benefits Of Having a Hospital Bed For Home?
Height and Position Adjustability
An electric hospital bed is perfect for people with limited mobility who need a similar level of comfort and mobility to that which is provided by a hospital bed. Profiling hospital beds for home are useful for those needing help sitting up, lying down, staying in bed, or those having difficulty moving, turning, or getting in or out of bed as a result of their surgery.
Improved Accessibility
When beds have full height adjustability, this can also make it a lot easier to get in and out of bed, so you can be less reliant on carers. Adjustable height beds also mean that the bed can be positioned at the best height for wheelchair transfers, or can help lift you from a sitting to a standing position with the minimum of effort, just by pressing the appropriate button on the electronic handset.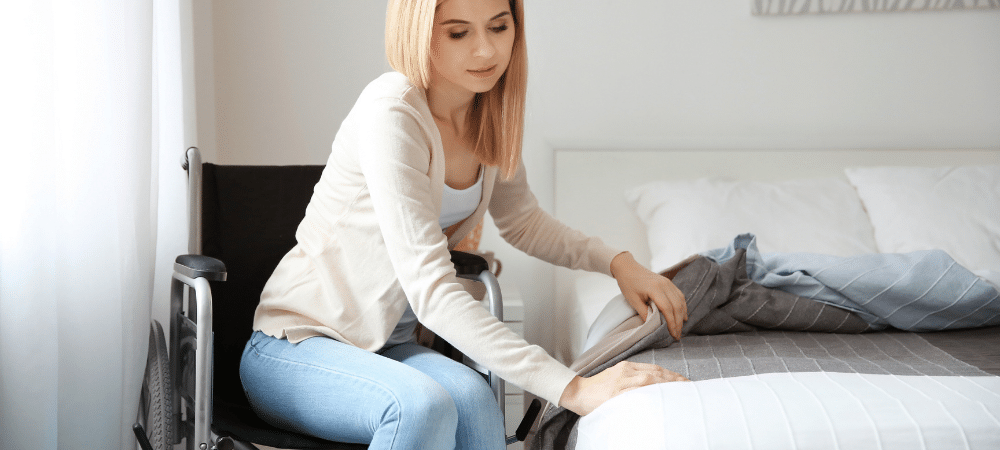 Health Benefits
Hospital Beds for the home can greatly improve the quality of sleep, which is essential for recovering after surgery, or for those with pre-existing medical conditions.
Helpful For Carers Too
Another benefit of Medical beds at home is that they make it much easier for the care team too. As they can be adjusted so easily, it prevents the carer from having to get into difficult positions when moving around the bed.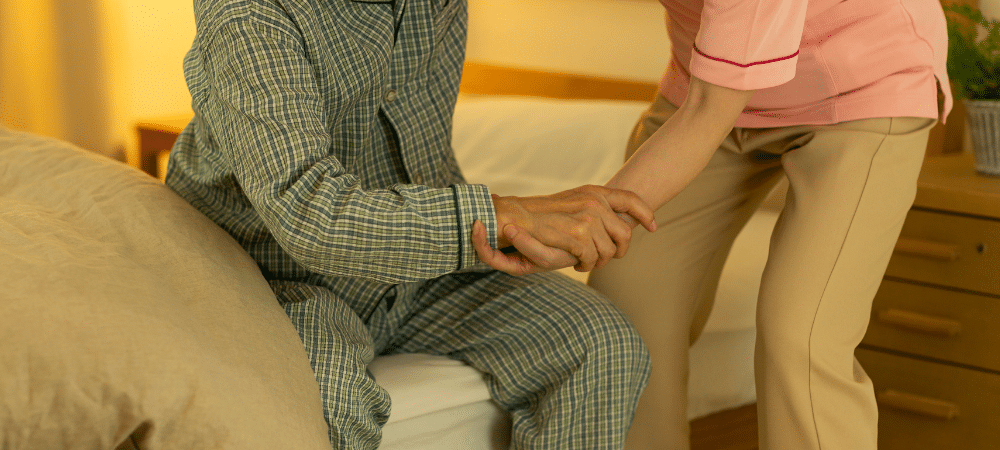 Whatever you decide, ensure that you have conducted proper research before ordering a hospital bed for your home. Try out different beds and see which one can suit. At the Adjustable Bed Factory, we have two beds within our homecare range that can be built for you and fully customised to suit your needs.
Interested in a New Adjustable Bed?
Order a brochure below for more information on our adjustable bed range.
Sleep is very important for our health and well-being so we've come up with some tips on how to keep