What Is The Best Adjustable Bed Sleeping Position For Me?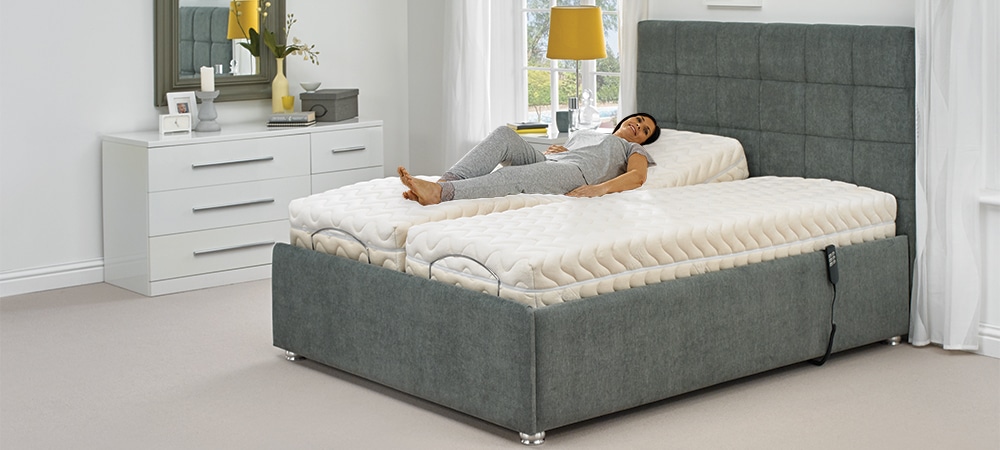 Everybody has a favourite sleeping position. Regardless of whether you sleep on your back, on your side or with your head raised, an adjustable bed can suit all preferences. The question is: which position is best for you?
Different adjustable bed sleeping positions can have a big impact on how well we sleep. Here is our guide on which position is best for you:
Side Sleeping on an Adjustable Bed
Side sleeping is one of the most popular sleeping positions in the UK and more that 60% of people side sleep, particularly among those over the age of 65. The flexibility of our spine decreases as we age which is why the side sleeping position is more popular in older adults.
If you suffer from conditions such as lower back pain, hip pain, acid reflux or sleep apnoea, you could benefit greatly from sleeping on your side.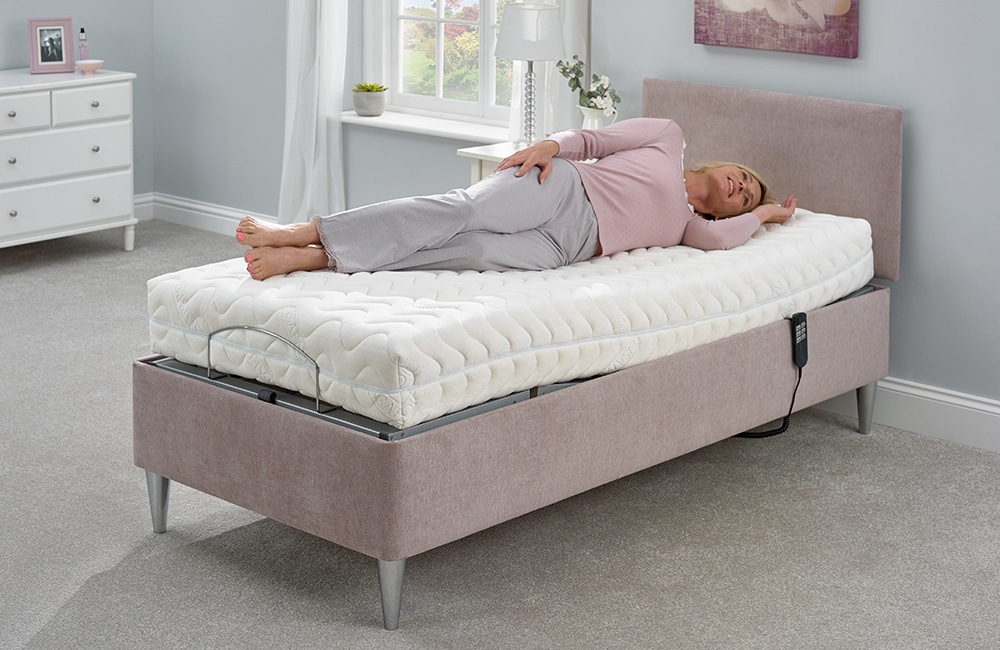 There is often a misconception that you can't sleep on your side in an adjustable bed, however, this is far from the truth.
Side sleeping on a conventional bed can cause strain on your shoulders, neck and hips which can trigger aches and pains. However, our beds can adjust you into a comfortable side sleeping position at the simple touch of a button, meaning less strain is put on your joints. This has a number of benefits including:
Raises your head and feet, alleviating pressure from your hips, helping to temporarily relieve pain
Allows you to sleep better without tossing and turning to get comfortable
Regulates blood flow since your body is supported without obstruction
Sleeping on your back in an Adjustable Bed
If you regularly suffer from backache, sleeping on your back with your adjustable bed in the contour position is for you.
It is unknown to many that back pain can be regularly triggered by poor posture, and conventional beds can actually worsen back pain. This is because they place excessive pressure on vulnerable areas such as your spine and hips. Sleeping on your back enables your spine to align correctly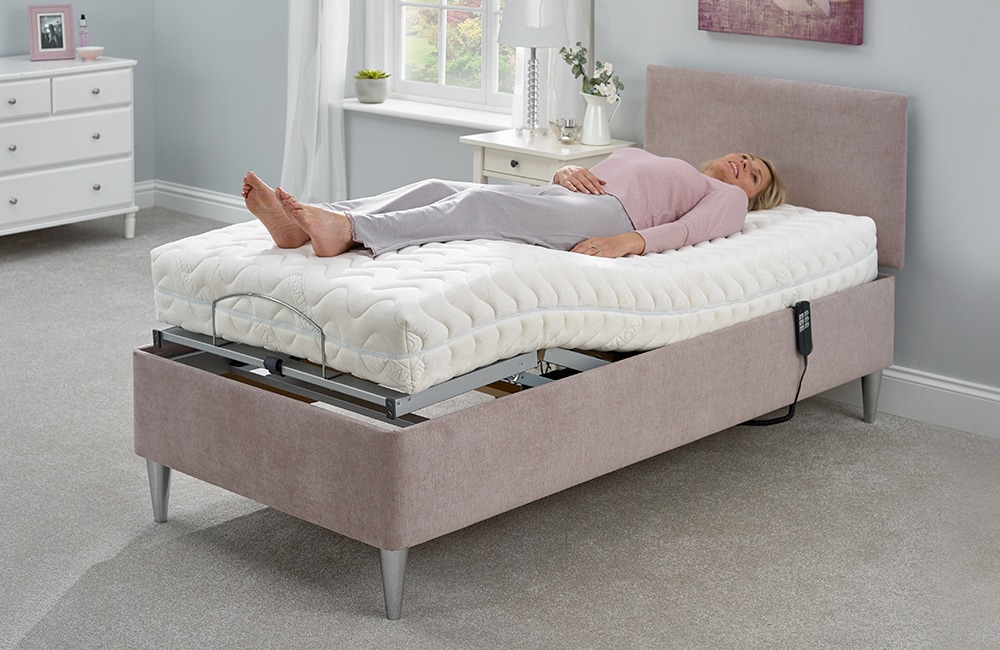 Unlike conventional beds, adjustable beds can be adjusted to contour to the natural 'S' shape of your spine, offering extra support to your knees, spine and hips. This helps to temporarily relieve pain, and ultimately, you will be provided with a relaxing nights rest!
Often pillows can be used as a method of pain relief and spinal support. Although this is an ideal quick fix, these pillows can move around as you do when you are asleep. Furthermore, pillows can offer an uneven amount of support to your back, which could cause additional pain. An adjustable bed and sleeping on your back in the contour position is certainly a better, more long term solution.
Sleeping with your head raised on an Adjustable Bed
Ultimately, sleeping with your head raised is great for your breathing. It helps to alleviate heart and sinus congestion, lessen shortness of breath and relieve migraines and stuffiness in the head.
Not only this, sleeping with your head raised can also help to prevent snoring and sleep apnea. This is because pressure is alleviated from your throat, helping to prevent blockages in your airways.
As well as these health benefits, being able to raise your head at the touch of a button can offer you maximum comfort when you are relaxing in bed with a book or watching the television!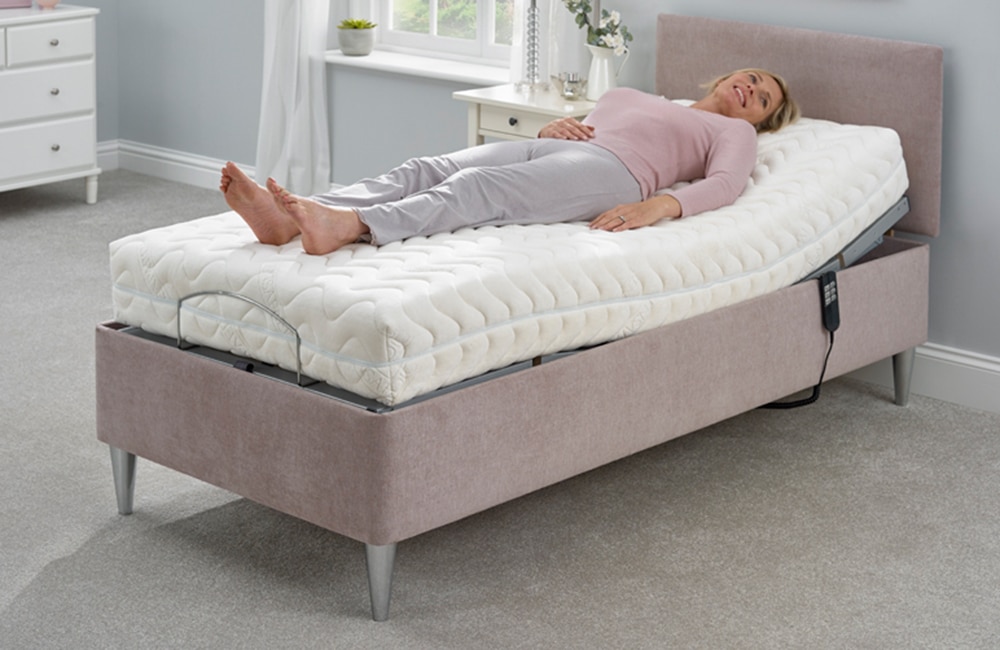 Health Benefits Of An Adjustable Bed
No matter what position you decide is the best for you, sleeping on an adjustable bed can have an abundance of health benefits for everyone. These include:
Temporary positional back pain relief
Alleviation of sleep apnoea and snoring
Temporary relief from arthritic pain
Sleeping with your feet raised can help to improve your blood circulation
Easing of insomnia
Adjustable beds can also help you to improve your independence in your home. By lowering and raising you at the simple touch of a button, you are less likely to need assistance getting into and out of your bed.
Frequently Asked Questions Adjustable Bed Sleeping Positions
1. What is the best position to sleep in an adjustable bed?
We all have a favourite position to sleep in so the answer is simple, whatever suits you and your sleep needs best. We would just advise that  If you wake up with aches or pains then you may benefit from changing your adjustable bed sleeping position.
2. Are adjustable beds good for back pain?
Yes! The best adjustable bed sleeping position if you suffer from back pain is sleeping on your back with your knees and hips slightly raised. This allows your spine, muscle and joints to rest in a neutral position.
3. What are the best adjustable bed mattresses for side sleepers?
While mattresses types ultimately boil down to your personal preferences, in our experience it is better to opt for a softer mattress (between soft or medium grade) if you sleep on your side. This is because a lot of weight is applied to specific pressure points on your side
4. Is it OK to sleep with your feet elevated?
Yes, it's perfectly OK to sleep with your feet elevated. Simply raise the foot section of your bed and you're good to go. Using an adjustable bed to elevate your feet can help with a number of conditions.
It improves blood circulation
Reduces swelling in the legs and feet
Reduces blood pressure
Prevents deep vein thrombosis
Ready to experience better sleep?
If you would like to discover how an adjustable bed could help you to- sleep better at night, get in touch today, or request a free brochure on the form on this page.
Interested in a New Adjustable Bed?
Order a brochure below for more information on our adjustable bed range.
Adjustable beds have many features that could help you. Here are just a few of them!